About Us.
Hutson & Amro Print Ltd have been trading for over five years now but the two directors had been running separate printing companies in the North West for more than twelve years, before then coming together in 2007.
Digital Print:
Our state of the art Xerox digital press can duplex SRA3 sheets from 100gsm – 350gsm giving you a huge range of finishes and paper weights in which to get the perfect print.
For short run, print on demand, full colour digital, with the ability to personalise in line.
Prints up to SRA3 size.
Digital Printing:
As digital print is at the forefront of technology within the printing sector, we at Hutson and Amro have invested in a high quality digital press allowing us to specialise in short run colour work. We can provide this service at competitive rates, without compromising on quality, making it ideal for full colour flyers, business cards and all those smaller jobs which would be otherwise uneconomical to produce.

Printing.
We provide quality litho and digital print
to the trade and the end user.
Litho Printing:
With our range of sheet-fed B2 and SRA3 presses we are competitively placed to produce leaflets, brochures, catalogues, stationery packs, NCR pads, flyers, posters and booklets.
Environmentally Friendly Paper:
We can offer environmentally friendly sustainable print using materials that are 100% recyclable and biodegradable, using vegetable oil based inks and chlorine free papers. As well as conventional print the environmentally friendly papers are also available on the digital press.
Finishing Equipment:
Heidelberg cylinder, for cutting & creasing.
Programmatic guillotines x2.
MBO folder.
Morgana folder.
Morgana crease & perforating unit.
Ancillary equipment including drills, & stitchers.
Our Printing Presses: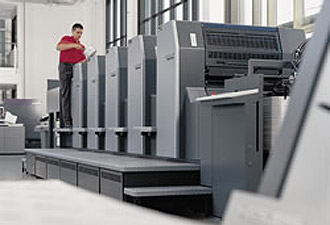 Heidelberg Speedmaster B2 (image shown) –


+

5 colour + coater.
GTO B3 –


+

2 colour, with perforation and numbering capabilities.
Roland SRA2 –


+

2 colour, ideal for longer run stationery.
Visit us at:
Head Office
UNIT 5, Cowburn st, Heywood,
Greater Manchester,
OL10 2AJ
Call us on:
01706 367443
What our customers say
They always meet
deadlines for print and delivery
even when I give them no
margin for error.

Cheryl Fildes,
McInerney Homes Ltd

Here at Tidy Planet we often ask for samples of eco products, namely papers and gifts for upcoming shows, this really helps us when deciding what items we are going to use.

Simon Webb,
Tidy Planet Ltd

The quality and efficiency of their service is superb, we never wait more than 48 hours to receive items we already have in stock.

Paul Corcoran,
IPORS Ltd.

They always discuss all elements of print with us, including inks and paper quality to ensure there are no surprises when the job arrives.

Debra Tebay,
Links Property
Management Ltd

With their extensive knowledge of corporate gifts, Hutson & Amro were able to supply me with items for an event with just days notice.

Poalo Moretti,
Power Mechanical Ltd